DIRT ROAD WARES
small-batch and hand-made off a dirt road in southern Appalachia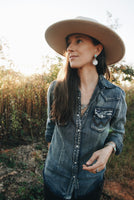 WELCOME
My name is Katie Cahn and this is my shop.
The name Dirt Road Wares comes from the places we feel most at home. Growing up in a cabin in the woods with a long dirt road that made me feel like I couldn't be found is how I like it. It's taken me a while, but I'm settled in now, in a home with a dog, partner, kid and a dirt road to round it all out.
CREATIVE PROCESS
bones, stones, feathers, petals, wings and living things
just a few of the elements that inspire me and inform my design process
FOLLOW @DIRTROADWARES
KIND WORDS
"I just wanted to let you know how happy you have made me. As a Trans woman it is very difficult to find pretty things that fit well and look good on me. This is the first item that has truly made me feel pretty."
"When I held the earrings up, I could almost hear the sound of the river, feel the cool snowmelt cascading around my ankles."
"This girl. Seriously. Katie's work is always imbued with a special kind of magic. That's why I wear Dirt Road Wares daily. Thank you, Katie!"
"Her work is always crafted with lots of soul. She's a woman of the wild and wearing her pieces is like carrying a little piece of wilderness with you."
COMMUNITY
Join me on Instagram or subscribe to my DRW email community for shop updates and a glimpse of what fuels my creative energy.
As an artisan who produces original pieces of hand-made jewelry, rarely are there ever products "in-stock." New wares are released in monthly batches. Please consider joining the DRW email list for shop updates and early access to Newly Forged collections.